EcoFlow DELTA 2 Max Solar Generator is a must-have for any home that puts power security & comfort first. Ensure you're prepared with the power station made for almost any situation your family could find themselves in. All while staying green.
Winner of Red Dot Design Award 2023. EcoFlow DELTA 2 Max Solar Generator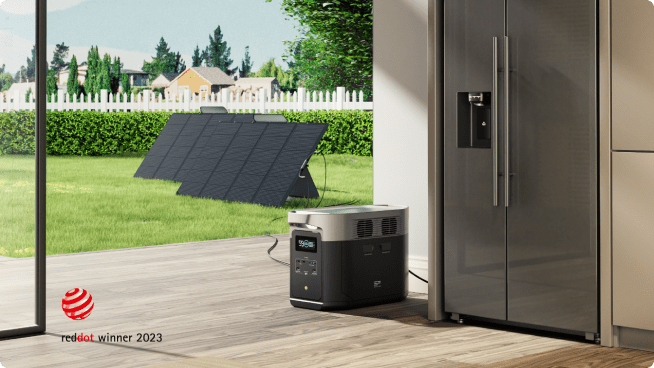 Dual Solar Input System with Independent MPPT Technology
Maximize solar generation by harnessing multiple PV sources

Maximize the potential of solar energy by simultaneously utilizing multiple photovoltaic (PV) sources with our innovative dual solar input design, each with its independent Maximum Power Point Tracking (MPPT) technology. Enjoy a seamless integration of solar power into your home or business whether you have multiple solar panels or a combination of rooftop and ground-mounted installations, making the most of every ray of sunshine.
Fuel Up 80% in Only 43 Mins*
Experience the world's fastest 43 minute recharge
With DELTA 2 Max's upgraded tech, combine up to 1000W solar input with AC for world-leading charging speeds. In only 43 min get an 80% charge. Or stick with AC for an 80% charge in a speedy 53 mins.
*When combined AC and solar input is 2400W using 1800W AC input and a maximum of 600W solar input. In only 43 min get an 80% charge.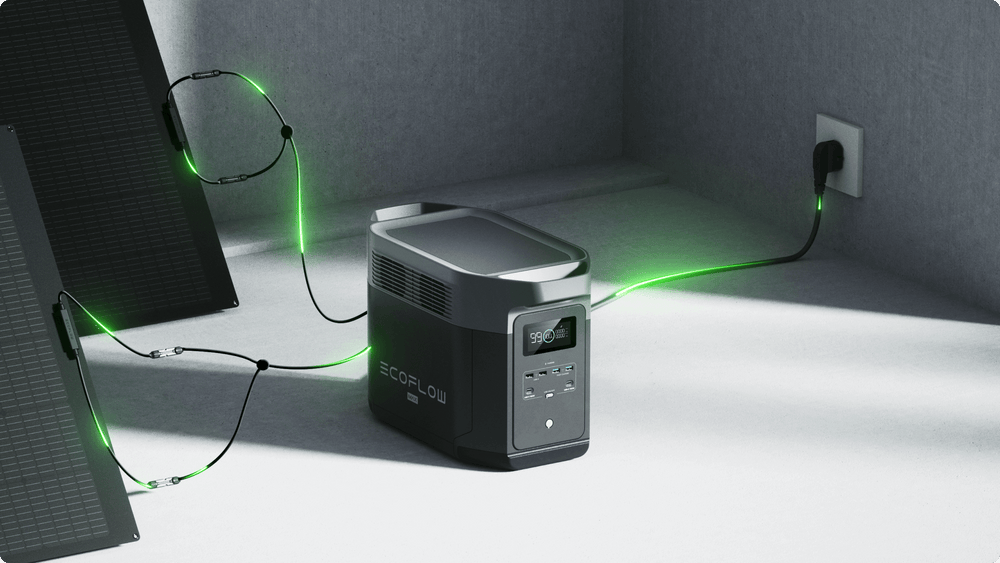 Run 99% of Appliances with X-Boost.
Power pretty much anything with up to 3100W Output

DELTA 2 Max powers almost all the devices you need with a large 2400W AC output. Plus, with X-Boost proprietary technology, run appliances with an output of up to 3100W. Compared with other power stations, DELTA 2 Max can power more devices, while still preventing overloading and overheating.
Power for the entire family.
2048Wh Capacity

A generous 2048Wh capacity makes DELTA 2 Max ideal for home backup, running your essentials for hours. Using your transfer switch, or plugged in directly, keep your fridge on and stop food from spoiling for up to 14 hours. With its lightweight design, DELTA 2 Max is portable enough to grab and go on the next camping trip.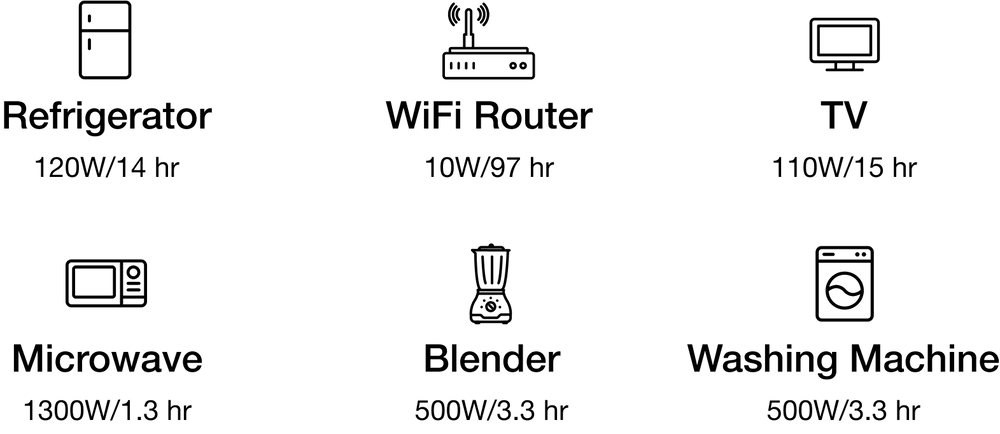 Customized In-App Energy Management
Take Control Of Your Power.
Customized In-App Energy Management
Take control of your power.
Customized In-App Energy Management
Take control of your power.
Customized In-App Energy Management
Take control of your power.
Smart Automatic Control
AC Always-on
Energy Management
Low Battery Reminder
Save more on electricity bills
Customize the working time of DELTA 2 Max to avoid peak rates.
Experience peace of mind during power cuts
With our all-new AC Always On Mode, the AC power button stays on, even during a power cut or after the grid power is back, keeping your appliances powered no matter what.
Easily adjust power
Easily adjust AC or Solar input to fit your needs: backup power reserve or energy savings. Prioritise solar energy input via the EcoFlow app when using X-Stream AC + solar dual charging.
Always power ready
Get a notification via the app when the battery hits a low.
What's in the box - DELTA 2 Max
1.DELTA 2 Max 2.AC Charging Cable 3. Car Charging Cable 4. DC5521 to DC5525 Cable 5. User manual & Warranty card
What's in the box - 400W Portable Solar Panel
1. 400W Solar Panel 2. Kickstand Case 3. Solar to XT60 Charging Cable 4. User Manual