Collect and store energy from the sun with a portable solar generator and solar panel kit. Lightweight and travel-friendly, EcoFlow solar generators are the perfect choice to power your camping or RV trip. Without fumes or noise, solar-powered generators are safe to use inside, perfect for unexpected home blackouts.
PORTABLE
POWER
Power
Storage
Renewable
Energy
Solar Powered Generators:
How Do They Work?
Collect Solar Energy.
EcoFlow portable solar panels collect sunlight and convert it into useable power.
Save Solar Power.
Store energy using a solar generator.
Power Your Appliances.
EcoFlow portable solar generators convert direct current (DC) into alternating current (AC), so you can run all your devices.
Solar-powered Generators
for Camping
RIVER series Solar
Generator Kits
Ideal for camping or heading out in your motorhome. EcoFlow RIVER series solar generator kits combine a portable battery with a folding solar panel to run all your essential appliances with clean, renewable energy.
Learn More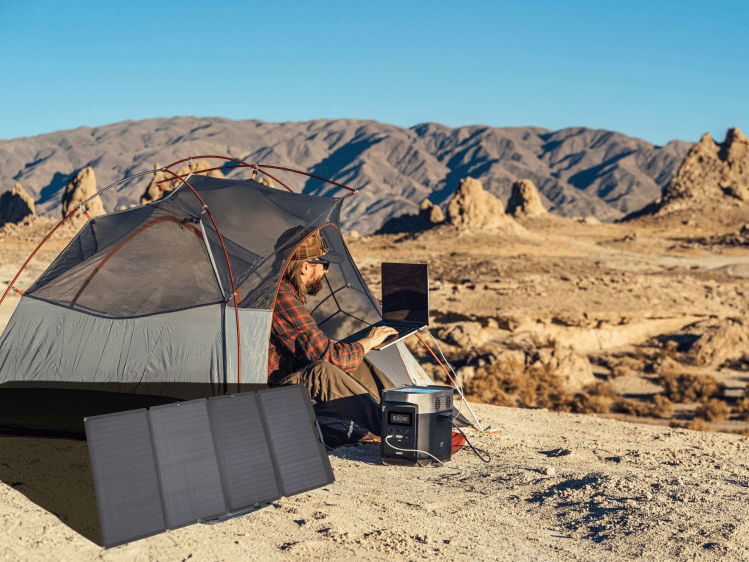 Solar-powered
Backup Generator
DELTA series Solar
Generator Kits
Prepare your home for blackouts with a DELTA series solar-powered generator and solar panel array. Unlike fossil fuel generators, solar generators and panels collect and store clean emergency power without the noise, fumes, or need for gas storage.
Learn More
Compare DELTA series Portable
Solar Generators
LET'S ANSWER YOUR QUESTIONS
Are solar-powered generators any good?
Gas generators operate on fuel, are loud, can't be used indoors, and require ongoing maintenance. EcoFlow solar generators bundles are clean, require no maintenance, and don't incur ongoing costs. In addition, you can safely use an EcoFlow portable power station indoors.
How big of a solar generator do I need for camping?
EcoFlow DELTA solar generator bundles are designed to keep your devices running for hours on end. Take a DELTA Max solar generator bundle for example, you can power a 60W fridge for up to 33 hours. You can keep most of your essential devices like laptops, smartphones, and small appliances running throughout the day.
Will a solar generator power an RV?
EcoFlow solar generator bundles contain our industry-leading portable power stations, which come with an advanced battery management system that regulates voltage, temperature, and current in real time. This gives you a safe, reliable battery that you can use for years on end.
Is there a generator that runs on solar power?
Not only do EcoFlow solar generator bundles provide you with clean energy, they're also a great source of backup power. And they're portable too. This means you can continue to power doing what you love most without all the hassle of a gas generator.
Which is better for an RV solar or generator?
Solar generators are an extremely convenient and portable way to power your RV. Standard gas generators are bulky, making them difficult to transport, noisy and dirty, disrupting the natural environment. With a solar-powered generator, you don't need to carry fuel. If you plan to recharge your solar generator while travelling, your portable solar panels fold up and store conveniently in your RV.