Backup your home during power outages with DELTA Max. With an expandable capacity that reaches up to 6kWh, dual charging, and the ability to power your home devices, you can stay powered on in any situation.
Next Level Capacity
Dual Charging


More Ports Than You'll Need
800W max Solar Input
Power 99% of your home devices.
With EcoFlow's X-Boost technology, DELTA Max can power heavy-duty devices up to 3000W. That means during a power outage or blackout, you can continue to power your fridge, dryer, and more. That's the industry gold standard for a portable power station of this size and capacity.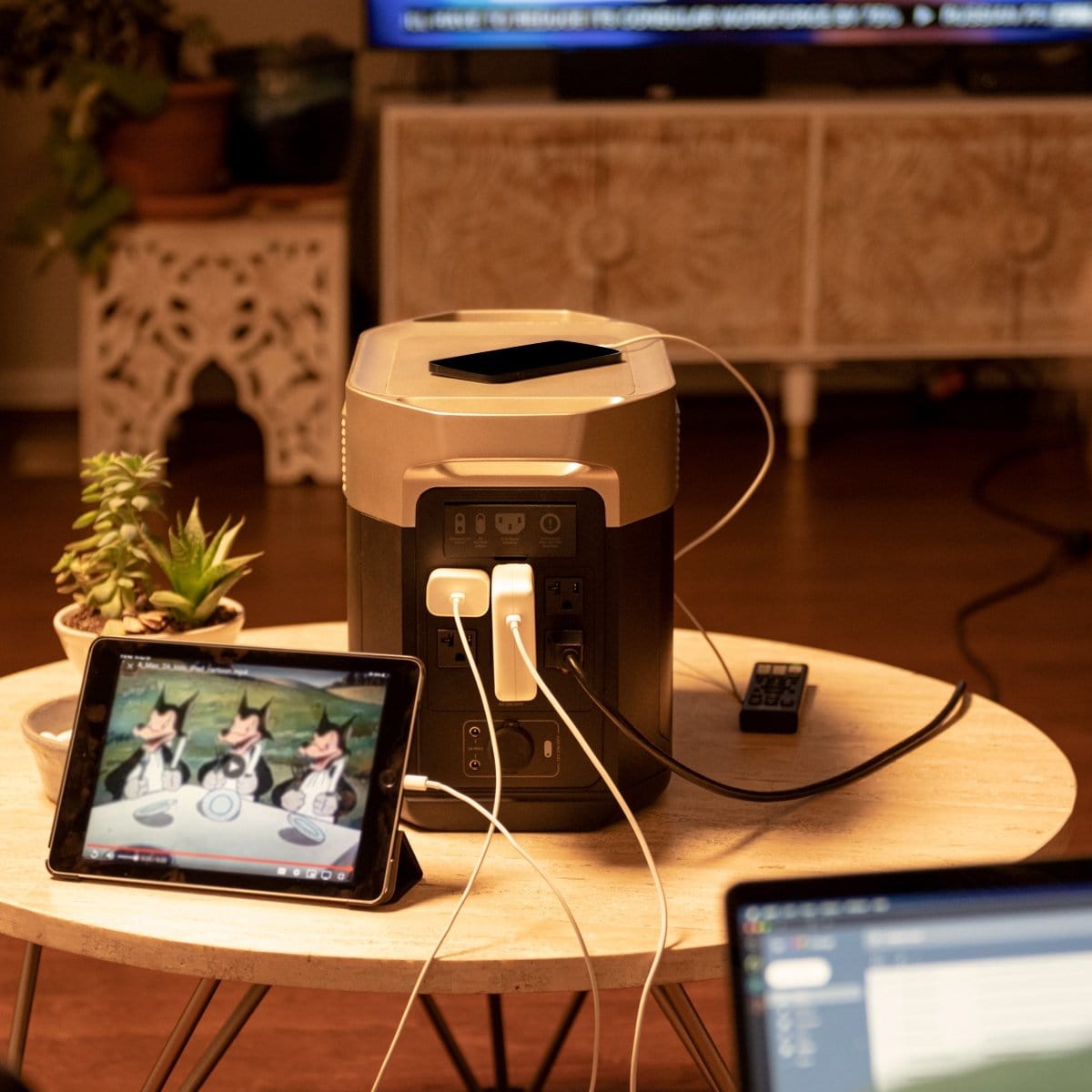 Harness the power of the sun.
DELTA Max connects with up to 2x 400W EcoFlow solar panels to deliver fast solar charging speeds. With a voltage range from 11-100V and the solar connector, you can also connect other solar panels to your DELTA Max. Even during cold or cloudy days, our smart maximum power point tracking (MPPT) algorithm automatically detects voltage and current in real time to give you optimum solar generation throughout the day.
Control, monitor, and manage your energy use.
Control and monitor your DELTA Max with the EcoFlow app. Dive into the settings to customize your power use or control DELTA Max remotely.
What's in the bundle - DELTA Max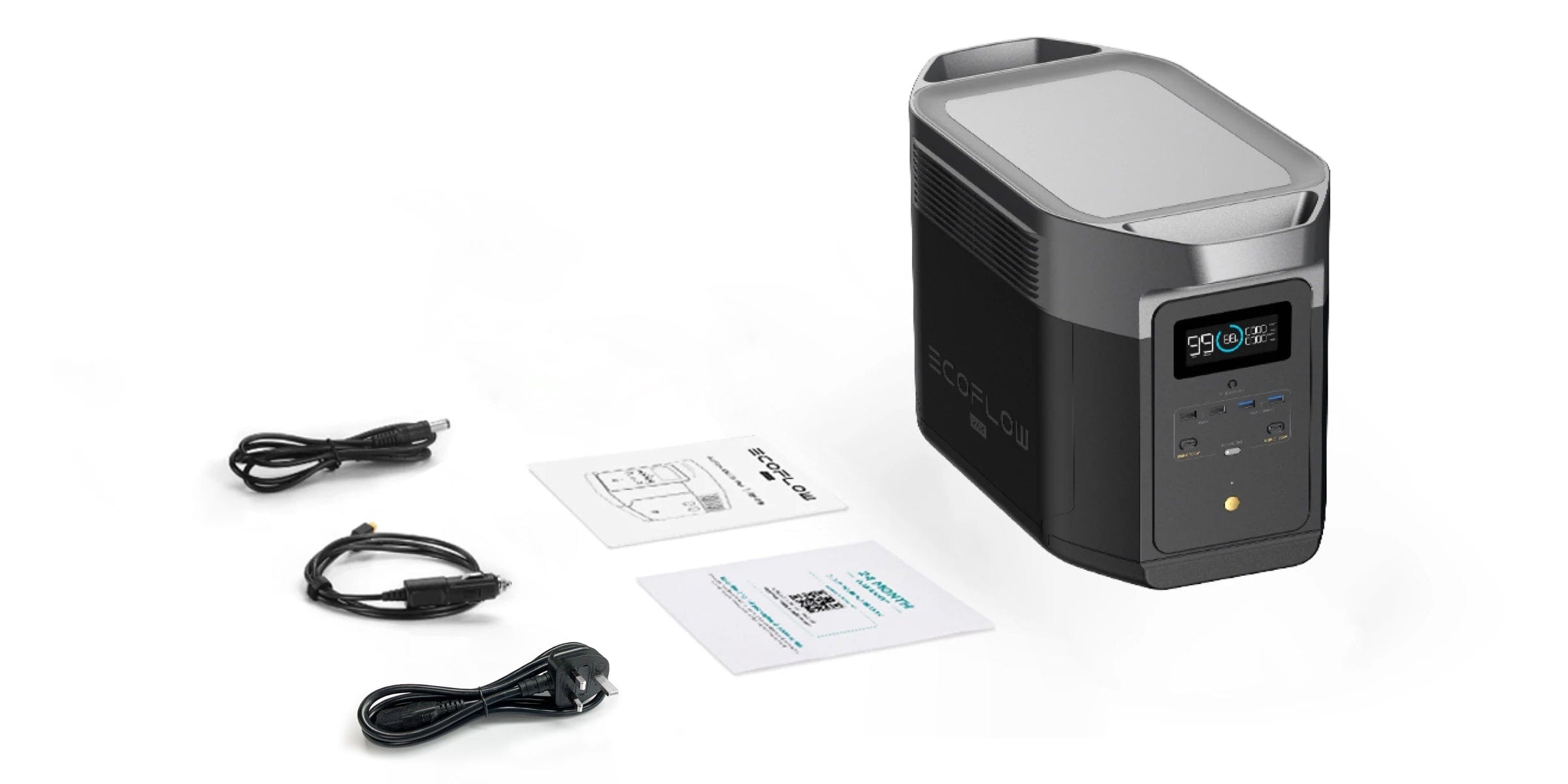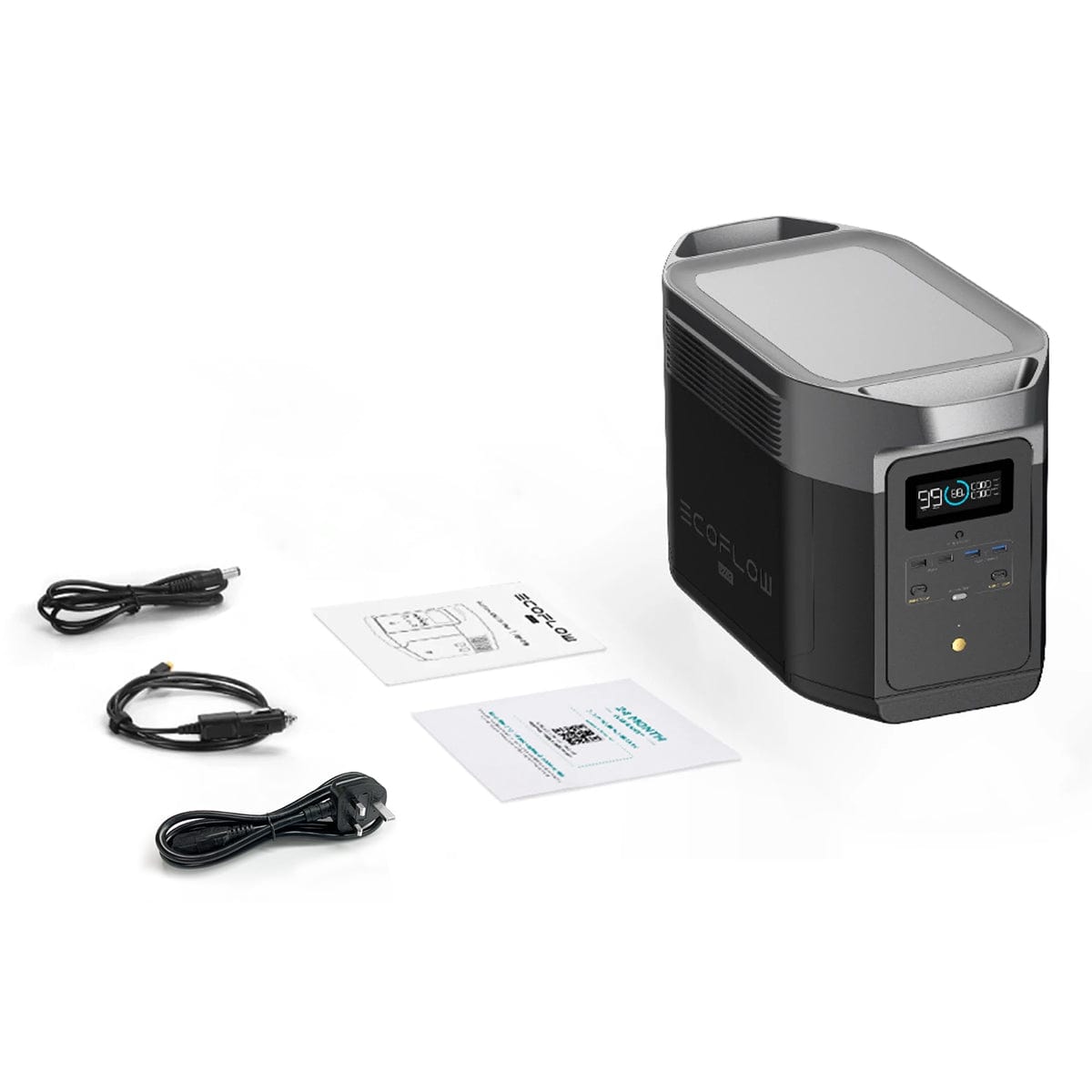 1.DELTA Max 2.AC Charging Cable 3.Car Charging Cable 4.DC5521 to DC5525 cable 5.User Manual
What's in the bundle - 400W Solar Panel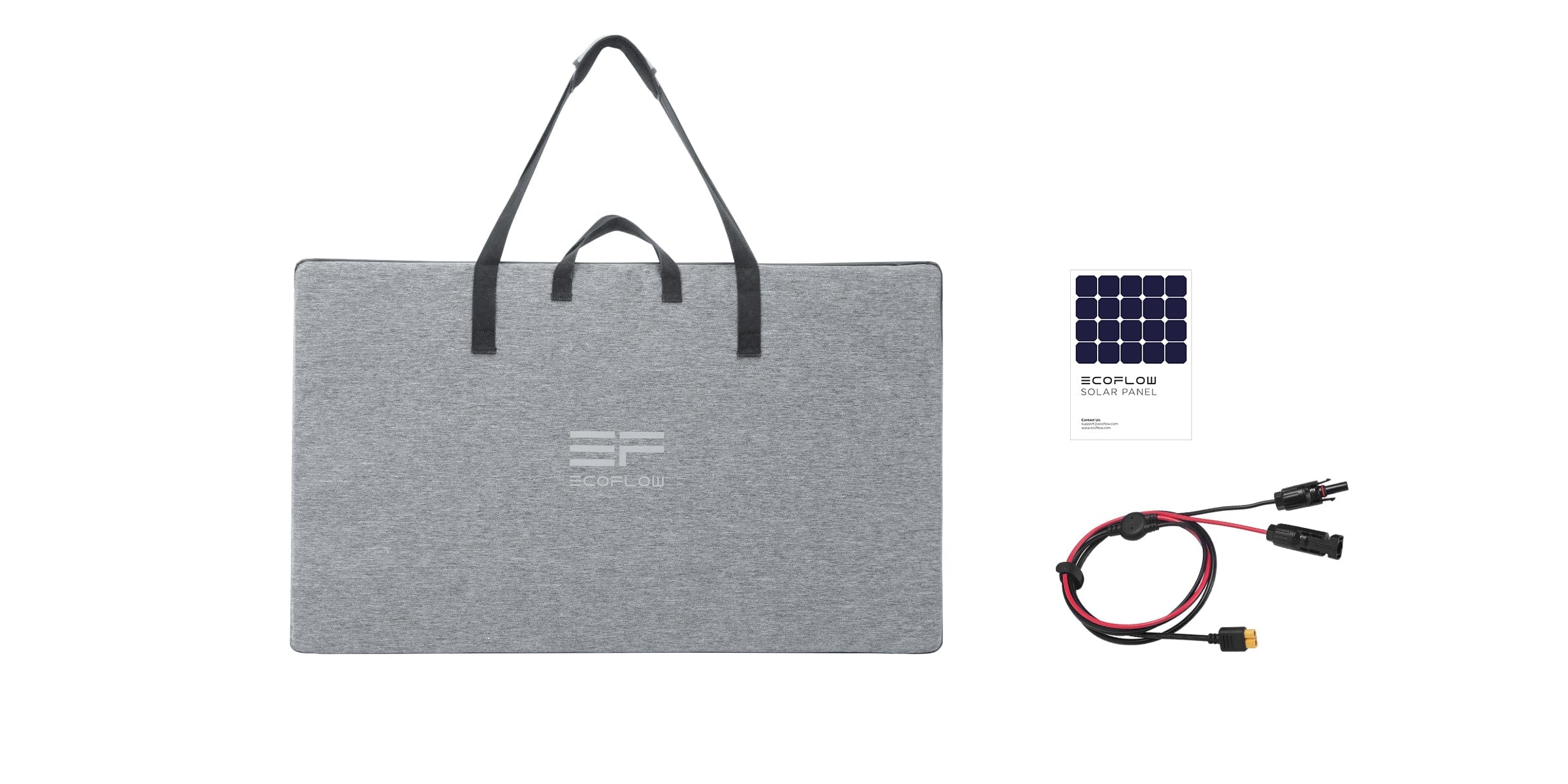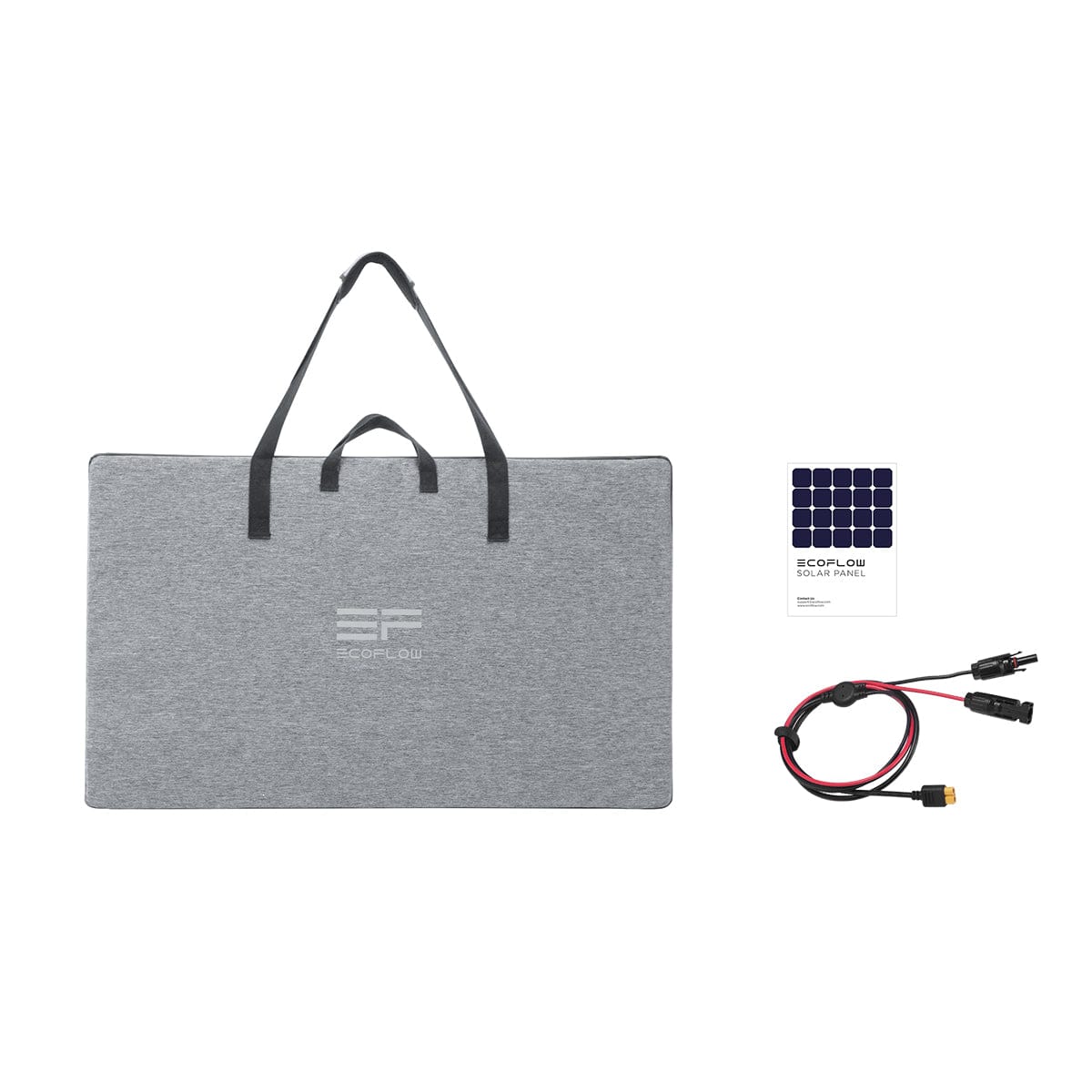 1. 400W Solar Panel 2. Kickstand Case 3. Solar to XT60 Charging Cable 4. User Manual
Frequently Asked Questions
It depends on the total voltage and watts of solar panels you choose. As long as the solar panels use solar connector and its voltage and current are under 11-100V, 13A max range.
When charging DELTA Max and its extra battery together, you can reach 3600W max charging speeds by combining any two methods of AC, solar and Smart Generator. For DELTA Max single unit, you can recharge it at standard wall outlets (1800W max), or combine AC and solar charging to reach max 2000W charging speeds.
When your portable power station is plugged into the wall, any electronics plugged into it are powered from the grid and not its battery. When power from the grid stops, as in a blackout, the power station automatically switches to battery power within 30ms.
DELTA Max is not water-resistant, so it should be kept away from liquids. Or if you're looking for water-resistance solution, you can purchase the DELTA Max case to water-resistance protection.
Increase the efficiency of your solar panel by facing it directly at the sun without any obstructions. Remember to be careful when handling your solar panel because damaged cells provide less power.
Yes, if the only thing between it and the sun is transparent, but it won't charge as well compared to being outside. You can compare the difference by looking at the input section of your power station's LCD screen.
Specs of DELTA Max (2000)
Net Weight
Approx. 48 lbs (22 kg)
Dimension
19.6 x 9.5 x 12 in (49.7 x 24.2 x 30.5 cm)
Charge Temperature
32 to 113°F (0 to 45°C)
Discharge Temperature
-4 to 113°F (-20 to 45°C)
Charge Method
AC Wall Outlet, 12V Car Adaptor, Solar Panel, Smart Generator, Smart Extra Battery
Full Recharge Time
1.6 Hours (AC)
21 Hours (12V Car Charger)
1 x 400W panel : 6-12 hrs
2 x 400W panels : 3-6 hrs
Management Systems
BMS, Over Voltage Protection, Overload Protection, Over Temperature Protection, Short Circuit Protection, Low Temperature Protection, Low Voltage Protection, Overcurrent Protection
Cycle life
800 cycles to 80%+ capacity
Testing and Certification
CE WEEE CTP RCM KC
AC Charge Input (Power)
X-Stream charge (2000W max)
AC Charge Input (Voltage and Amperage)
220-240V~50Hz/60Hz, 10A
Solar Charge Input
11-100V 13A Max, 800W max
Car Charge Input
Supports 12V/24V Battery, Default 8A
AC Output (x4)
Pure Sine Wave, 2400W total (surge 4600W), 230V~ (50Hz/60Hz)
Max Device(s) Power Supported by X-Boost
3000W
USB-A Output (x2)
5V 2.4A, 12W max, per port
USB-A Fast Charge (x2)
5V/2.4A, 9V/2A, 12V/1.5A, 18W Max
USB-C Output (x2)
5/9/12/15/20V 5A, 100W max
Car Charger Output (x1)
12.6V/10A, 126W max
DC5521 Output (x2)
12.6V/3A, per port
Smart Extra Battery
Supports up to 2 DELTA Max Smart Extra Batteries (sold separately)
Smart Generator
Supported (sold separately)
Specs of 400W Solar Panel
Cell Type
Monocrystalline silicon
Dimensions
41.7*93.1*0.98 in (105.8*236.5*2.5cm)
Open Circuit Voltage
48V (Vmp 41V)
Short Circuit Current
11A (Imp 9.8A)
Weight(Solar Panel)
Approx. 35.3lbs (16.0Kg)
Weight (with Kickstand Case)
Approx. 41.9 (19kg)
*Please Note: The above weight, size, etc. have certain measurement errors. Please refer to the actual measurement.
Car charger shares power with the DC5521 output port offering maximum output of 126W.
Whether the product can be charged or discharged depends on the actual temperature of the battery pack
DELTA Max (2000) needs to be connected to the DELTA Max Smart Extra Battery for dual charging.